Used Equipment
Additional equipment available at eBay!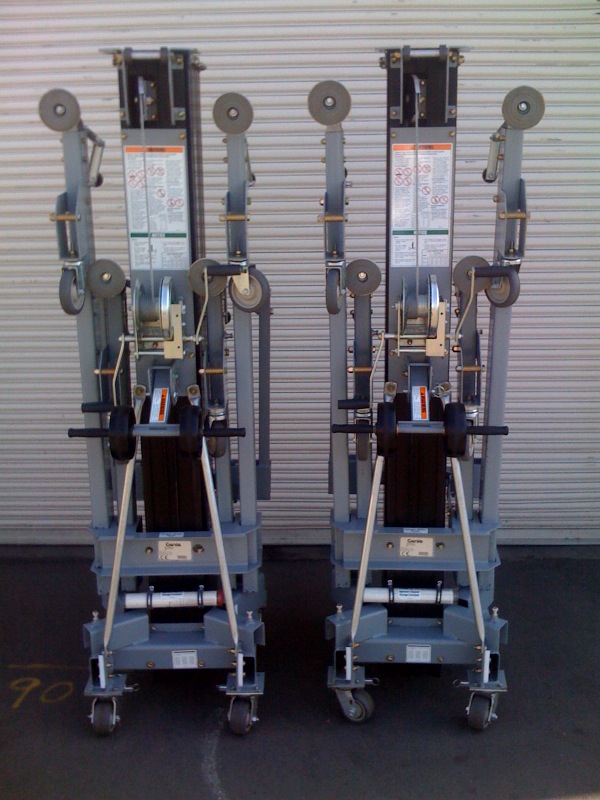 Genie Lift ST25 Crank Super Tower- 2 Available
$3,950.00 each

The Genie® Super Tower™ is the industry standard for theatrical productions and entertainment events. The standard flat black anodized finish blends in perfectly backstage, making it virtually invisible to audiences.

Ideal for theatrical productions and entertainment eventsUse as a single unit, or two or more can be used together to support trussesFits through a single door and is easy to transport; no bulky base to get in the wayNo tools required for setupDurable steel forksHand winch locks in place when handle is releasedReversible winch handle for easy storage.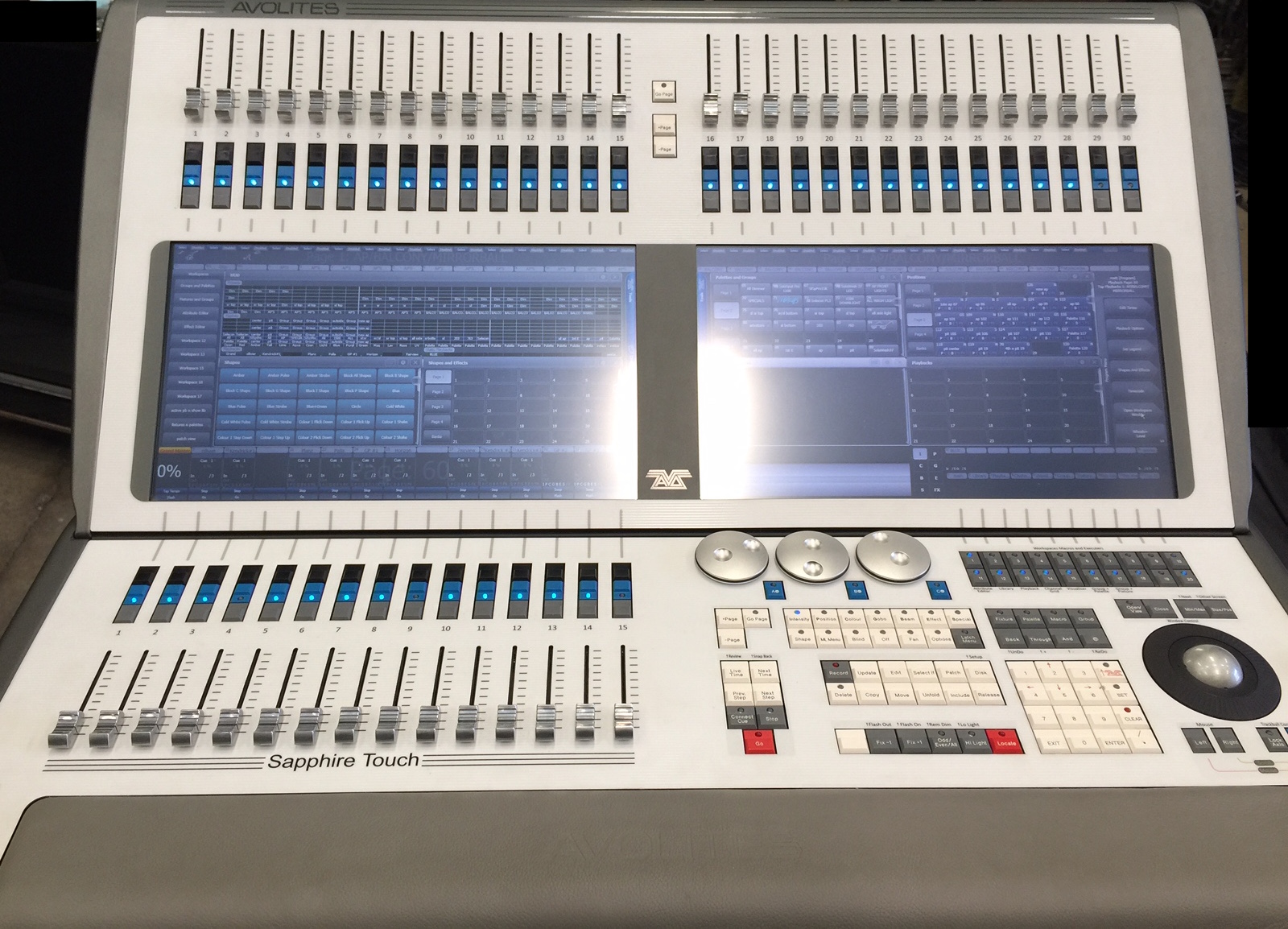 Avolites Sapphire Touch Console - 2 Available
$24,500.00 each.

Massive, vibrant 15.6" widescreen programming windows.

Fast, live and hands on attribute controls.

Unique Tricolor illuminated tracker ball with Z axis control to give fast control of distance related attributes - zoom, iris, and focus. Connectivity with Sapphire Touch Wing and Sapphire Media Wing (sold separately - contact your Full Compass Sales Professional for more information).

Dedicated theatre cue stack control.

Huge programming surface – capacity for 2 external touch screens.

20 programmable macro buttons Screen articulation.

45 motorized, automated master playbacks.

Built in UPS battery backup.

8 physical DMX outputs, up to 16 over ArtNet or sACN- 8192 channels.

Supports Titan Network Processors for DMX expansion up to 64 universes.

Dual Ethernet port Direct SMPTE in.

MIDI In, Out, and Through.

Trigger Inputs.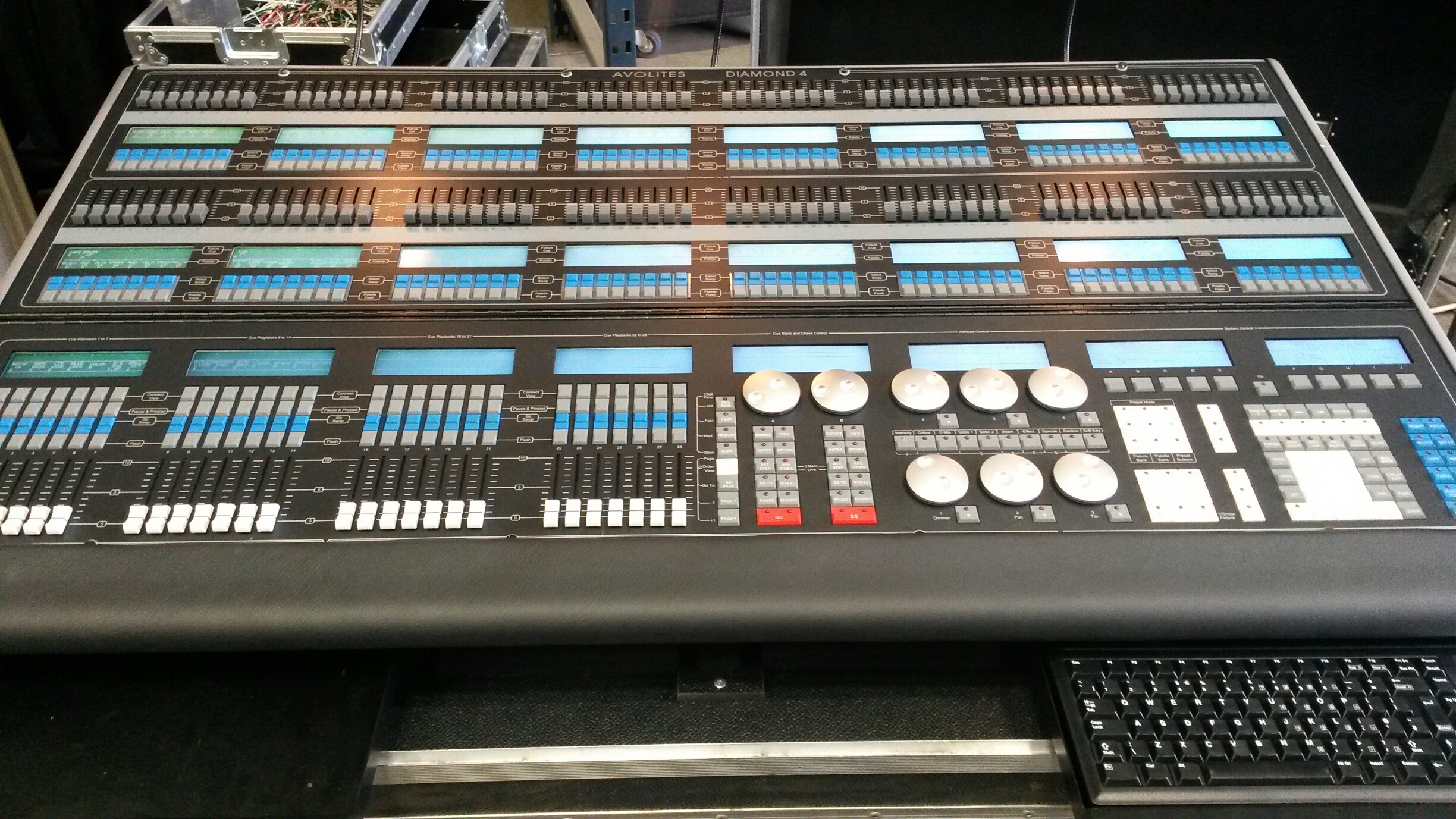 Avolites Diamond 4 Vision Console- 1 Available
$4,000.00 each.

Diamond 4 Vision lighting console with Titan upgrade.

Has never toured.

This Diamond 4 Vision is designed for large-scale shows, festivals, concerts, events and multi-purpose venues.

It addresses the needs of lighting designers needing fast, accurate and immediate control of numerous intelligent lights, conventional fixtures and other DMX devices.

Avolites - after intensive user research - has designed a console that is equally at home in live 'hands-on' situations as it is in more controlled 'pre-programmed' environments.

The D4 Vision addresses the whole spectrum of production situations. For those with more time - and possibly with a designer away from the console - the Vision's newly designed programming panel allows the entry and selection of fixtures and palettes by number, whilst the electronic palette gives entry by legend. These entry systems can be mixed in any way, and are always available simultaneously.

Also new is the storing of Times within a Palette, expanding the ability to use Palettes during live performance, and ensuring a highly flexible toolkit for use during programming. The built-in Looks and Palettes, and the D4 Vision's easy use, enables operation of a show when there's been no pre-programming whatsoever.

In addition to the 24 high resolution graphic LCD screens, dual high resolution colour monitors ensure that the D4 Vision's information is presented and formatted in an easy-to-understand-style.

All data is stored on the console's hard disk, and can be backed up onto floppy/CD or copied via the Ethernet connection to a PC.

The D4 Vision retains the Avolites tradition of being built-to-last in all respects. Robust physical construction is coupled with full upgrade-ability using the in-built modem for Internet connection whenever and wherever required.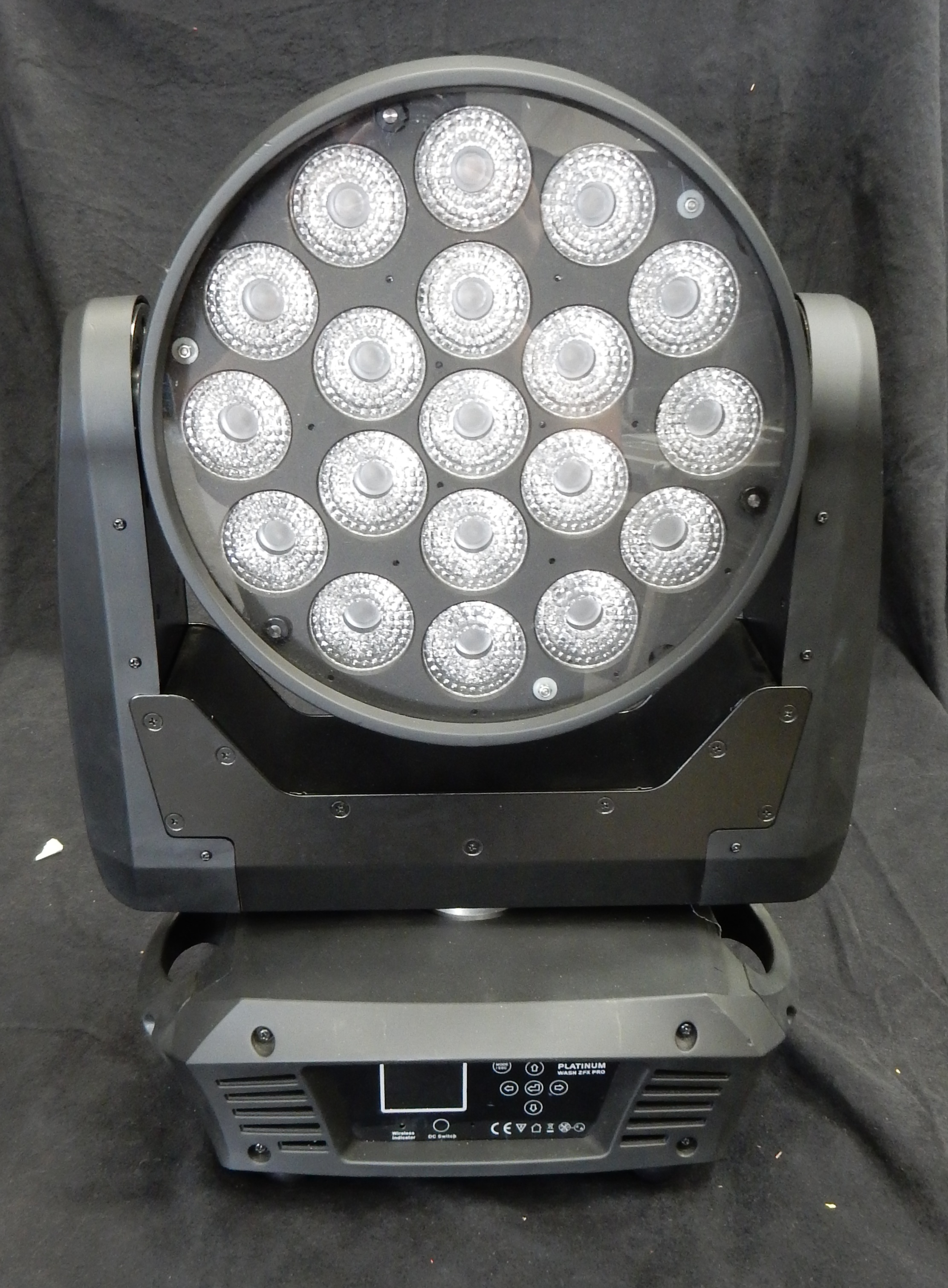 Elation Platinum Wash ZFX Moving LED- 14 Available
$1,650.00 each.

Non-touring fixtures.

They have been professionally maintained and in good working condition

• 19x 15W OSRAM HO RGBW LEDs

• 3 DMX User Modes - 20/32/42 ch.

• Zone Chase LED array macros

• Smooth Flicker Free Dimming

• Motorized Zoom 9°-21° beam angle (17° -43° field angle)

• Electronic Strobe / Dimmer

• EWDMX wireless DMX Receiver Built-in

• 3 & 5 pin DMX in/out

• A/C Powercon input & C on/off switch

• Auto Switching multi-voltage power supply 100-240v

• Manual, Master/Slave, Stand Alone

• New High Resolution Color Touch Screen display / menu with battery back-up

• RDM compatible

• Full Ring Array control in 42 Ch. extended Mode

• 350W total Max Power / 3.6A

• 33lbs

• 14.4"L x 9"W x 19.4"H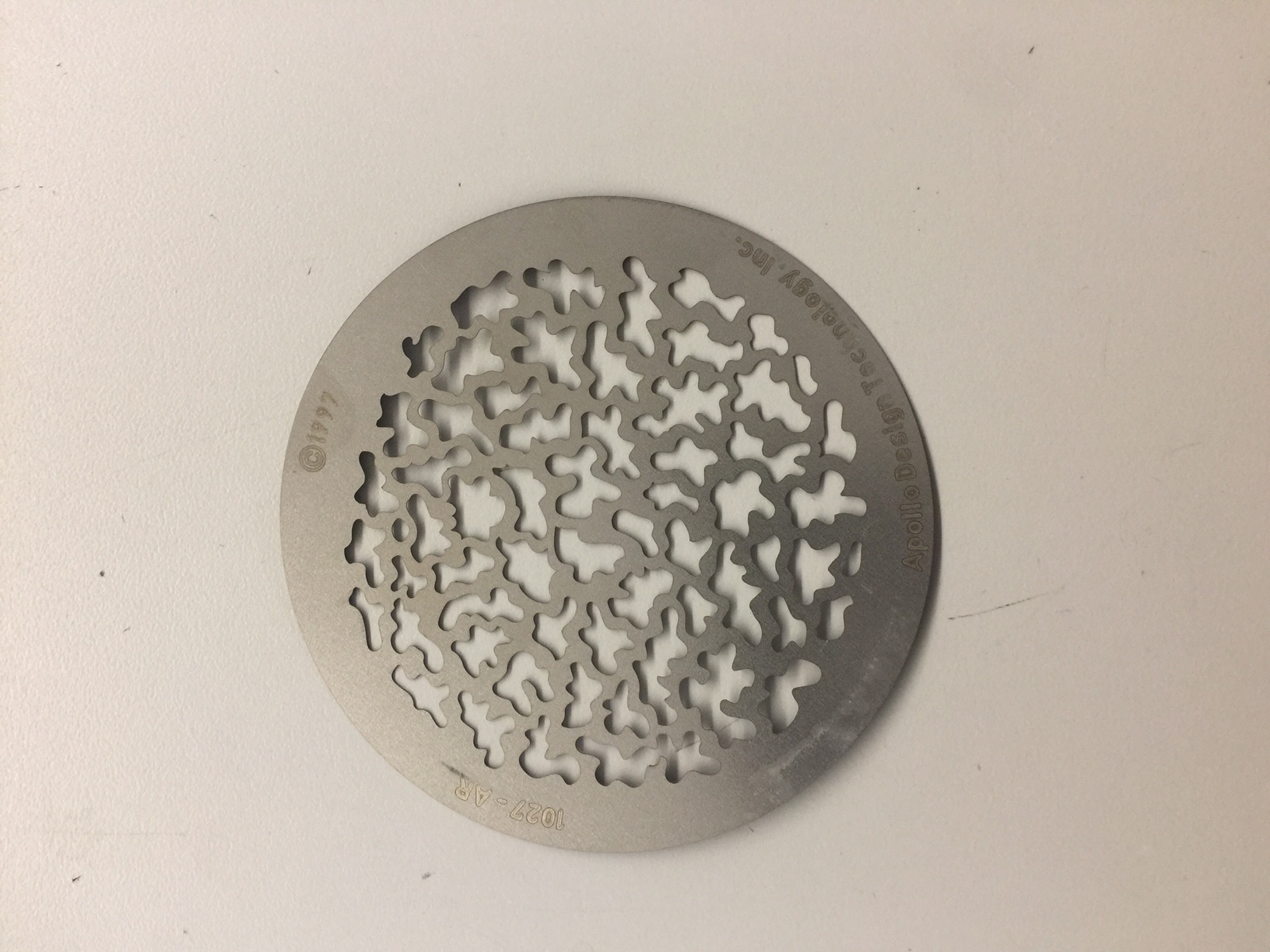 Gogo Foliage Break- Up 120 Available